The Buried Village is an area in Sigil's underground. The village used to be above ground before the dabus buried it, along with all its inhabitants, at the whim of the Lady of Pain.
Inhabitants
Edit
Another named character in the area is Ojo, whose communication skills are almost nonexistent.
Barr to the south guards the gate to the Weeping Stone Catacombs, which the party will pass through soon after meeting Pharod. Before that, the gate is closed.
To view X, Y coordinates in-game, press L.
Click the map to enlarge it.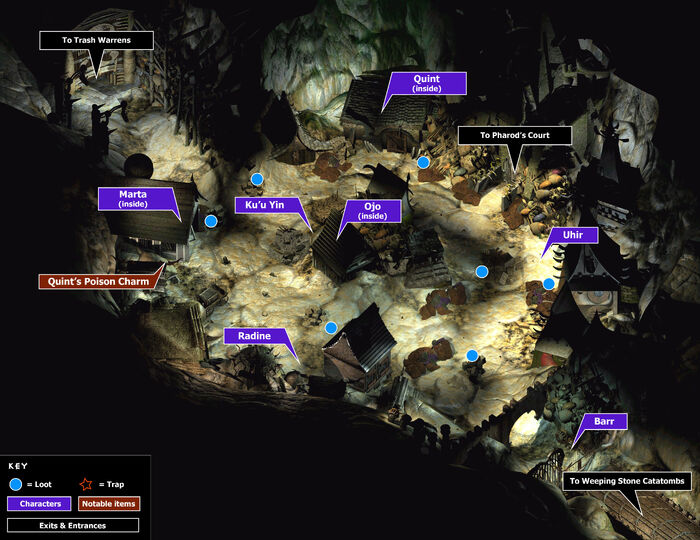 Experience
Edit
There are a few ways of gaining experience in the Buried Village. See each individual character page for more detailed information on quests, conversation and alignment changes.
Quests
There are a few items that can be found around the Buried Village:
Among crates near the entrance (X=1375 Y=1415):
Among the other set of crates near the entrance (X=1640 Y=1140)
Under some rags on the floor (X=2700 Y=1050):
Crate on the floor (X=3080 Y=1733)
Under some rags near the catacomb entrance (X=3500 Y=1820):
Among crates to the south (X=3030 Y=2275)
Crate on the floor (X=2125 Y=2100):
Community content is available under
CC-BY-SA
unless otherwise noted.