Inner Curst is an area in the center of the gate town of Curst in Planescape: Torment 's Outlands. Here lays the portal to the hellish plane of Carceri
Inhabitants
Edit
Sub-areas
Edit
To view X, Y coordinates in-game, press L.
Click the map to enlarge it.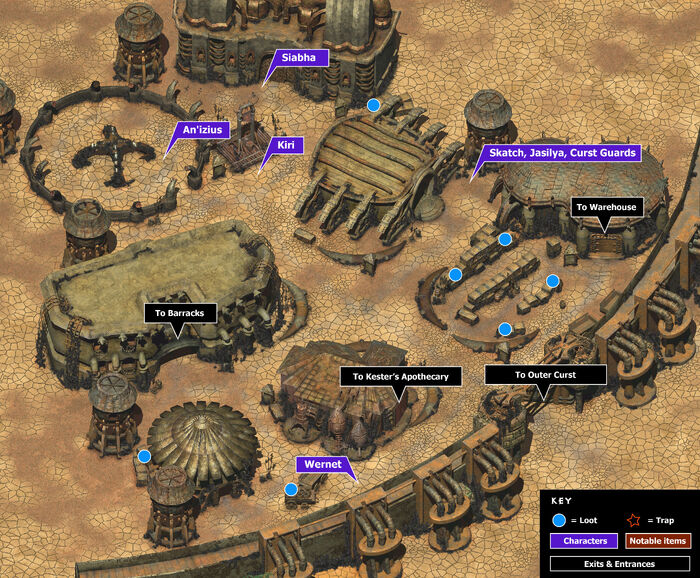 Crate (X=2370 Y=650)
Crate (X=2880 Y=1700)
Crate (X=3170 Y=1500)
Crate (X=3480 Y=1760)
Crate (X=3200 Y=2090)
Barrel on a wagon (X=1830 Y=3100)
Chest (X=910 Y=2860)
In the warehouse, crate (X=980 Y=260)
Walkthrough
Edit
"Chief, watch your back here, okay? This place is filled with backstabbers." - Morte
Container loot, from south to north:
(Using the L key to show location is arguably as easy, and in this case, more accurate, as the map only shows three containers)
Distillery
Edit
At 6 on the map
Charms, in infinite supply:
Adder's Tear, Blood Charm, Blood Fly Charm, Bone Charm, Corpse Fly Charm, Charcoal Charm, Charm of Infinite Recall, Clot Charm, Cockroach Charm, Corpse Fly Charm, Cranium Rat Charm, Heart Charm, Knot Charm, Thrice-Blind Charm
Scrolls and charms, one only:
Dirty Rat Charm, Scroll of Blood Bridge, Scroll of Cone of Cold, Scroll of Ice Knife, Scroll of Remove Curse
Kester will raise his prices if TNO gives the entire inheritance to Crumplepunch, or if TNO splits the inheritance between the brothers. He will only give a discount if TNO gives the entire inheritance to him
Warehouse
Edit
At 4 on the map
Devore, Warehouse Workers
If TNO is in the Anarchist faction, Grimscalp the skull in the Wrecked House in the Lower Ward (where Morte was imprisoned, or perhaps one could say shelved) will tell of a secret stash in Curst. TNO must have heard of it, but may or may not need to still be in the Anarchist faction, to get the stash's contents from Devore, the warehouse manager in Curst. The Spiked Gauntlets of Ogre Power, 250 copper and 1000 XP.
Curst Barracks
Edit
At 9 on the map. Boxes to search
Curst Administration
Edit
Unable to enter on this visit to Curst, but Siabha is just outside the doors
West of 5 on the map. Jasilya vanishes at the entrance here after being freed, and reappears later in the Tavern. There are a few containers in here, but they are empty
"Plane: Concordant Opposition. Location: Gate Town, Curst." - Nordom
Next Area:
Curst Underground
Community content is available under
CC-BY-SA
unless otherwise noted.