The wiki about Planescape: Torment and Torment: Tides of Numenera, developed by Black Isle Studios and inXile respectively. Planescape: Torment is a role-playing video game developed for Microsoft Windows by Black Isle Studios and released on December 12, 1999 by Interplay Entertainment. It takes place in locations from the multiverse of Planescape, an Advanced Dungeons & Dragons (AD&D) fantasy campaign setting. The game's engine is a modified version of the Infinity Engine, which was also used for BioWare's Baldur's Gate, a previous AD&D game set in the Forgotten Realms.
Trending articles
Popular categories
View full main page
| | | |
| --- | --- | --- |
| | | |
Cults

Children of the Endless Gate

Order of Flagellants and Austerities
‹
›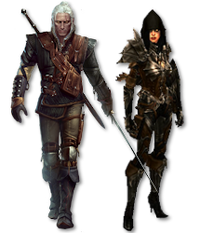 Quotes
---
I'll bet ye've got all *sorts* o' barmy questions! [She mimics your heroic stance] Greetin's, I have some questions... can ye tell me about this place? Who's the Lady o' Pain? I'm lookin' fer the magic Girdle o' Swank Iron, have ye seen it? Do ye know where a portal ta the 2,817th Plane o' the Abyss might be? Do ye know where the Holy Flamin' Frost-Brand Gronk-Slayin' Vorpal Hammer o' Woundin' an' Returnin' an' Shootin'-Lightnin'-Out-Yer-Bum is?Elderly Hive Dweller
Helping out
---
Welcome to the Torment Wiki! Feel free to join us and contribute to this wiki. Everyone is free to create a new page or edit any existing one. Questions about wiki editing should be directed towards the administrators.
New to wikis? Check out our

help page library

, or ask your question on Discuss.
Not sure where to start? Check our Things to Do page.
Affiliate Wikis